Alas Kedaton Monkey Forest
Alas Kedaton Located in Kukuh Village, subdistrict of Marga, around 4 Km from
Tabanan
City. Inside the area there are a temple which have two interesting part. The first is there two entrance to the temple, from the west is the main Entrance to the temple, the other entrance are come from east, north and south side of the temple. The second interesting part is the Holiest ground located in more lower condition than the entrance. which is usually located higher in other Balinese Temple. The sacred day of the temple always held on Tuesday, 20 days after Galungan. The ceremony must held afternoon and finished before sunset.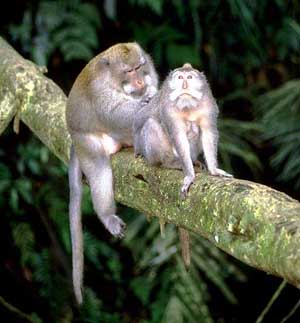 This temple surrounding by a forest where a lot of monkey live inside. Also there are thousand of giant bat that ussually seen in some tree of that forest even not as much as the Bats in
Goa Lawah Temple
, but the bats in this area is more bigger than bats in Goa Lawah. This make Alas kedaton always get a visitor from a domestic tourist into foreigner.
Labels: Tabanan Regency