Mount Abang and Batur
The historically active Mount Batur (Gunung Batur) is located at the center of two concentric calderas north west of Mount Agung, Bali, Indonesia. The south east side of the larger 10×13 km caldera contains a caldera lake. The inner 7.5-kilometer-wide caldera, which was formed during emplacement of the Bali (or Ubud) ignimbrite, has been dated at about 23,670 and 28,500 years ago (Wheller 1986, Sutawidjaja et al. 1992).

The SE wall of the inner caldera lies beneath Lake Batur; Batur cone has been constructed within the inner caldera to a height above the outer caldera rim. The Batur stratovolcano has produced vents over much of the inner caldera, but a NE-SW fissure system has localized the Batur I, II, and III craters along the summit ridge. Historical eruptions have been characterized by mild-to-moderate explosive activity sometimes accompanied by lava emission. Basaltic lava flows from both summit and flank vents have reached the caldera floor and the shores of Lake Batur in historical time. The caldera contains an active, 700-metre-tall stratovolcano rising above the surface of Lake Batur. The first historically documented eruption of Batur was in 1804, and it has been frequently active since then.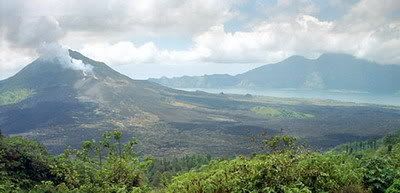 Mount abang is an old 2,152 meter high volcano ('Red Mountain'), on the eastern side of the crater southeast of Penelokan, is the highest point on Batur's outer crater. Climbing it is demanding but easier than climbing Gunung Batur. The trailhead lies about six km southeast of Penelokan
Labels: Bangli Regency