Bangli Regency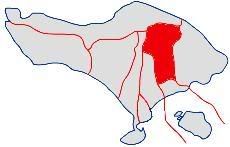 City: Bangli
Area width: 520.81 km2
Subdistricts:
1. Kintamani
2. Susut
3. Tembuku
4. Bangli
Web: www.bangli.go.id
Bangli Tourism Object
The priority of the development of Bangli put in economic area with emphasis of the agricultural sector in the meaning, the wide tourism and industrialist of the small art that supports specially the tourism. Industries nacionals doing by hand/diligence of the bamboo is to do by hand small/diligence of the industry in the regency of Bangli represents the preeminent matter with the local raw material made available still enough. Doing by hand/diligence observed fas the bamboo of the growth, with the location that separated in the Kubu village, the Kayubihi village, subdistrict Bangli, the Tanggahan village and three subdistrict, Susut.
To type the production for example: comfortably the flower, the curtain of the lamp, chanp, the purse and multifarious of the other mat of bamboo. Until the reach 2,966 of the amount of the unit of the effort of the year units 2000 absorbingly work as much to 4,838 employees. The wood doing by hand /de the diligence is also preeminent product of the regency of Bangli.
Location to by hand run/errand of the wood going the round one of the village of Tembuku, village of Yangapi, subdistrict Tembuku Bangli, village of Abangsongan, village of Abangbatudinding, village of Suter, village of Banua, subdistrict Kintamani Bangli, village of Sekaan, subdistrict Kintamani, Bangli, village of Serokadan, subdistrict Bangli of the village of Demulih. Doing by hand/Keris diligence, gold, considered brass and silver of the raw material that used that this doing by hand/diligence does not use the local raw material but to summarize employees who are elaborated this by hand doing/diligence is enough. This doing by hand located for example in the administrative village of Kubu, subdistrict of Bangli, village of Undisan, village of Peninjoan, subdistrict of Tembuku, village of Apuan, subdistrict of the village of Bangbang of the village of Tanggahan de Susut.
To type the production of which it does by hand under the form of: keris, accessories of silver, yellow copper accessories, Balinese wrap the accessories. To summarize this a used until reaches of the year 2000 112 units, that 467 employees used. Doing by hand/diligence of the clothes of the local substance of the use of the clothes but also has good growth of the perspective. To year 2000 amounts of east unit effort reach 156 units that is used 1,478 employees. Location of this doing by hand/diligence for example in the village of Bangbang, village of Tamanbali, subdistrict of the village of Bunutin de Bangli. The Arabica of the Copy is preeminent product of the regency of the garden of Bangli with potential areas near 18,775 you have. The location of the garden that has done near 8.377.495 you have, and the garden has been on 6,734.001ha.
Labels: Bali Regency, Bangli Regency