Gitgit Waterfall, Negara Regency
A visit to the waterfall at Gitgit should be on every tourist's list. The Gitgit waterfall is near the village of Gitgit (10 km (6 mi.) south-east of Singaraja on the road to Bedugul), in dense jungle.
Although the winding road is steep and you have to walk the last part, it is accessible by car or motorbike. You can park your vehicle at a parking lot on the Denpasar to Singaraja road from where you can see the waterfall. To get closer, you will need to walk. The path can be considered in two halves. The first part is a stepped concrete path bordered by trees and shrubs on one side and a myriad of colourful shops on the other. Halfway along the scene changes and on both sides you can see coffee and clove trees.
It is a refreshing experience to walk in this quiet area where the birds take turns to sing. The air is cool and gradually gets colder a you approach the waterfall. The 45 meter high falls roar down a steep stone cliff into a mist covered pool below, where travellers can cool off with a swim or rest their tired feet in the refreshing waters of the rushing river below.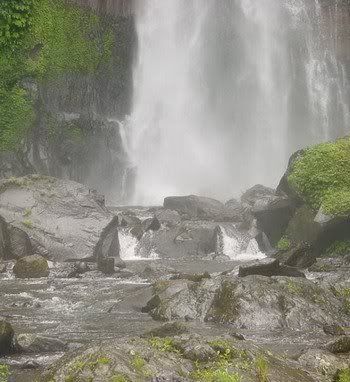 For those searching for the ultimately romantic spot to spread out an open air feast, there are picnic facilities available at the site, offering spectacular views of the dramatic falls. A short distance from the waterfall, the fine water spray will cool your body.
The waterfall is sixty metres high and as the water falls, it looks like white clouds falling down the mountain one after another. The falling water almost completely covers the rockface of the fall. If your camera is able, try taking some long exposure photographs.
But be carefull, although the waterfalls are beautiful and peaceful, the path from the road traverses a multitude of souvenir stalls where aggressive merchants do their best to laden you with souvenirs from all over Bali ... and probably Java as well!
Labels: Jembrana Regency