Klungkung Regency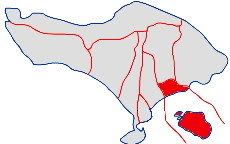 City: Semarapura
Width: 315 km2
Subdistrics:
1. Banjarankan
2. Klungkung
3. Dawan
4. Nusa Penida
Klungkung Tourism Object
Klungkung Demography is of smallest of the province of Bali, but it has potential aspect of the turned tourism to. In agreement with the decree of the province of Bali's governor in 1993 number 528, Nusa Penida in one of with also fixed like tourist resource to Bali. And then the base of the regency of the government of Klungkung in 1996 the decree number 284 is object of 18 tourists in the regency inclusivo Nusa Penida there.
The following ones are slight description of 18 tourist objects according to mentioned above and a certain tourist object that to interest. The antiques are conserved until however. "Taman Gili" well is known as "Flotation" is surrounded with the pool by loto, representing a small barren island of spiendeur with the ocean around.
This building was service like place to entertain the prominent guests who come before the king. The specific enchantments of the three buildings on the other hand like remmants historical of the kingdom of Klungkung in wonderful ornamentos, as the ceilings of the both buildings (Court-Corridor and Flotation) are adorned in the traditional paintings of Kamasan that reflect phylosophy of the culture of Hinduistic.
Flotation in the traditional architecture of Balinese was erected in an enormous turtle that the statue surrounded with a high brick of the half meter surrounds, in which aligned with Deity a history of Pemuteran Mandara Giri. The Dewa or the dieties in a side was water for the blessing of the life. It is in fact one symbolical history in the Earth stabilization with all the life in him. The object now daily is frequented of the foreign and domestic tourists
Labels: Bali Regency, Klungkung Regency