Buleleng Regency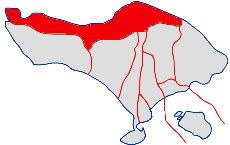 City: Singaraja
Area of the width: 1.365, 88 km2
Subdistricts:
1. Gerokgak
2. Seririt
3. Busung Biu
4. Banjar
5. Buleleng
6. Sukasada
7. Sawan
8. Kubutambahan
9. Tejakula
Buleleng Regency Tourism Object
Circumstance of the topography of the regency of Buleleng most of unfolding mountainous of representation of the area partly of the south of the arc, whereas in upstate regional of the regency of long Buleleng from the west to the east coastally is which is sufficiently long (144 kilometers) and on the sea of Java in northside, regency of westside of Jembrana, eastside Kabupaten de Karangasem, arc of the south of the Bangli regency, Tabanan and Badung.
The height of the regency of Buleleng between 100-1,000 ms is on the level of the sea (dpl), with the Earth Earth inclination of greater the one of 40% region of 23,89% regencies that covers. The social aspect of the economy summarizes the resident of the regency of Buleleng according to the result of the registry of year 1999 as much 577,644 people with the comparison of the density of the quotient 96,86% of sex 423 people/kilometer of ², and the index of growth of resident 1,10%. According to one more a higher education it finished, many of 39,92 have % of the education to the SD, and 0,63 have % of the comensurada education of the university. Of its Earth land use done in front in 1999, demonstrating 8,5% used like by a farm of the field of the rice, plantation the 21,4%.
To indicate 31,5% forest 35,6% that they cultivate dry and the other use for the width of 3,0%. Industries nacionals to develop materia/el product of the area, marginal the regency of the power of Buleleng has its development to immovable in the field of the sector of is effort, agriculture, small areas of industries and the tourism.
The development of the agricultural sector in the ample meaning is are what high-priority dices surround have reached that enough see with the enthusiasm. Some product that still has the power that will become to represent the very valuable assets for the improvement of the gains of the area. Of the other lateral agricultural sector, the industrial sector to do by hand and also represents the sector that is given high-priority by its development.
Even if Buleleng not as famous as Kuta or Jimbaran area but Buleleng also have a lot of tourism area such as the Lovina Beach that same famous as Kuta Beach now days.
Labels: Bali Regency, Buleleng Regency